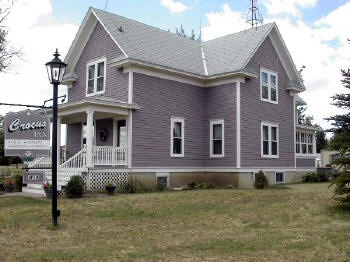 The Crocus Inn is nestled in the small town of Regent where the evening air is filled with the sound of robins and other song birds only disturbed by an occasional lawn mower or the sound of farm equipment moving through town.
Whether you are looking for adventure or relaxation, the Crocus Inn at Regent, fits your every need. Built in 1906, this restored to the time, yet modern (including air conditioning), spacious, relaxing, two story house comfortably accommodates 10 guests, featuring four bedrooms each with private bathrooms, a TV room, and dining area.. A pillared front porch and second-story balcony look onto a beautiful garden area. You'll receive free wireless Internet when you stay with us.
Enjoy a variety of cappuccinos, espressos, lattes and Italian sodas in the exquisite dining area. With prior arrangements an evening home cooked meal can be served from our licensed kitchen. A full breakfast is included with the lodging.
Browse the unique selection of locally crafted gift items and antiques in the gift shop.
Come and enjoy the quiet and secure atmosphere as you walk, ride bike, or drive the streets of Regent. See how our ancestors lived and how the people of Regent continue to live with few cares of safety. Become part of the community as you visit with the open and friendly people as so many of our visitors have done and speak so highly of as they return year after year.
Southwest North Dakota is critically acclaimed as prime hunting ground for pheasant, deer, and much more. Personal contact for private hunting is required.
Groups:
From hunting parties to family reunions, visitors have much to explore in Southwest North Dakota. Experience the:
Enchanted Highwayô
Medora ~ 2 hrs away
Dickinsonís Dinosaur Museum ~1 hr

Archaeological Digs ~ 1 hr
Hettinger County Museum ~ Regent
Enjoy beautiful scenery atop horseback or mountain bike